TRUTH and FEAR

Historical and personal experiences manifested into a juxtaposition of Visual interpretations.

This Exhibition is designed from life experiences and historical perceptions captured through visual interpretations focusing on the meaning, myth and stereotype of the word (BLACK), apropos of culture, race, politics, war, environment, economics and class.

Organized by Curator, Julius Lyles, this exhibition includes over 30 visual representations exploring multicultural perceptions and expressions.


Youngstown State University

Exhibition: February 3, 2010 - March 3, 2010
Panel Discussion: February 11th. 2010 at 7:00 pm
A panel discussion on contemporay African Art featuring Julius Lyles.

Through his art, Lyles provoke the critical dialogogue and mental transformation toward sociol reconstruction and a new approach to cultral diversity.


THE NARRATIVE:

The question about the Exhibition, Truth and Fear captures the negative and mythical implications through the use of assemblage, sculpture and painting metaphors.

Presenting the study of the true beauty of individualism from racial identity, assimilation and unjustified circumstances. Exploring the properties of the effect of a fear-based social institution that appeal to the viewers' senses, as opposed to the individuals struggle from themselves.

Around 1828, Thomas D. Rice blacked up, donned his Negro costume, and then performed "Jim Crow."

That performance was of an ideal blackness never before seen on the American stage. From that moment, America's original art form, the minstrel show, flourished at home and abroad.

Fueled by white male obsessions with defining African Americas as exotic and comically irrational fools, blackness was exploited for profit.

While entertaining, minstrel performers indirectly challenged traditional notions of authority, identity and status within America's social structure.

Its mixture of music, burlesque routines and satirical skits that often parodied elitist Shakespearean masterpieces made it the most popular form of entertainment of its time.

Past fascinations with this interracial, cross-gender union can be compared to mid and late-twentieth century public reaction towards rock n roll and, most recently, the Hip Hop phenomenon.

African American performers blacked up and began to take center stage around the 1840s, an occurrence that has undoubtedly influenced the future of popular entertainment forever.

Blacking up was once a prerequisite for performers and an unequivocal symbol of white dominance for African-Americans. Today its exploration can lead to new passages, which may offer greater insight into our collective blackness.

Now, while taking all of this into account we have to recognize the gift of the purpose of art, the process of deliberately arranging elements in a way that appeals to the senses or emotions.

Just like other art forms, writing, poetry, film and theatrical performance, visual art is used as a vehicle to deliver social consciousness.

To further investigate this theory we have to look at the Instillation of Truth and Fear into Three parts:

Black Americana Shrines (Fear)
Negative Historical assemblages of Black Memorabilia representing assigned identity

Fabricated Mixed Media Light Sculptures (Truth)
Various Mixed Media Sculptural work incorporating image and structural object. This is a representation of the transitional period between assimilation and ones true identification (SELF)

Abstract Word Paintings (The Fears of Truth)
A harsh look at how America, land of the free, treats it's descendents from prisoners of war. The divine right theory practicing the divide and conquer principle.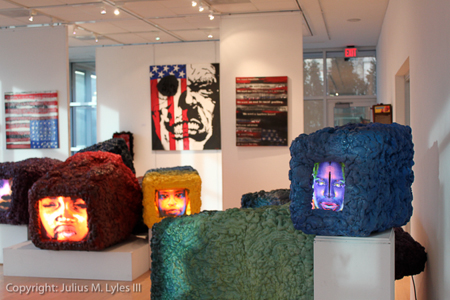 EXPLORING THE BLACK ARTIST DILEMMA IN
CONTEMPORARY ART

Younger generation of black artists lack the "black confidence" of earlier renaissance artists and jazz musicians. Certainly, we are children and children's, children born out of the struggles of the civil rights movement; one would think that we would possess the passion to develop an artistic movement beyond anything experienced before. Yet, we have no control over the definition of the art that we are making. For me, black artistic confidence means a willingness to transform blackness into a higher level of abstraction, to go beyond expression, to push it into truth, until the truth breaks away from the fear-based institutionalized disposition.


OUR INTERNAL BAGGAGE!

Black art should be black only in the thrust of the idea of blackness edge. Confidence comes with the creative ability to make one's culture "abstract". It's a gift that can be seen in the outer appearance of the work. In other words, it is a passionate force emanating quality.


NEXT PAGE HOME INDEX